Hitchhiking across the Atlantic
Running Downwind Part 1
Filmmaker and naval architect Thorsten O. Böhnke ended up as a crew member on the sailboat of a friend rather by chance. He set off on 1 May 2010 from Kiel, Germany. The journey on the catamaran sailboat "Indiana" took the two friends from the Baltic Sea into the North Sea. They continued along the Atlantic coast of Europe, following the routes of the old tall ships and the explorers of the past.
Explorers such as Alexander von Humboldt and Charles Darwin, who provided inspiration for the expedition, discovered countless new species on their journeys. Today, however, species are going extinct at an alarming rate. On their way towards western Africa, the friends visited conservationists, scientists and engaged citizens who are working to combat this species loss.
The journey of the "Indiana" ended on the Canary Islands. Thorsten was faced with the decision: should he end his journey as well or should he search, against all odds, for an opportunity to continue? He decided to continue and sailed as a "hitchhiker" from the Canaries via Cape Verde all the way to the Caribbean.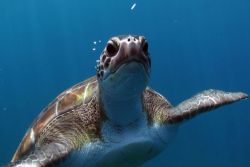 Thorsten documented the journey on film. Along the way he captured extraordinary, overpowering images that provide the foundation for an engaging documentary. The film juxtaposes the beauty of the marine environment with its vulnerability, managing to maintain this balance without becoming moralizing or pointing a finger. Beyond its focus on nature, the film also shows how worthwhile it is to follow your dreams despite all obstacles.
"Hitchhiking across the Atlantic" was shown at the Independent Days Film Festival in Germany in May 2012. A short version of the film won first prize in the Montevideo Film Festival in Kiel, Germany in the travel documentary category.
Upcoming screenings can be found under the heading Events. "Hitchhiking across the Atlantic" is also available on DVD. To order your copy, send an email to laura(at)tigersnail(dot)com